What Do We Do In 7 Weeks?
We Help Tradesmen Multiply Their Income and 10X Their Opportunity by Increasing Their Value, Presence, and Connections On-Site Decades Sooner Without a Red Seal or College Degree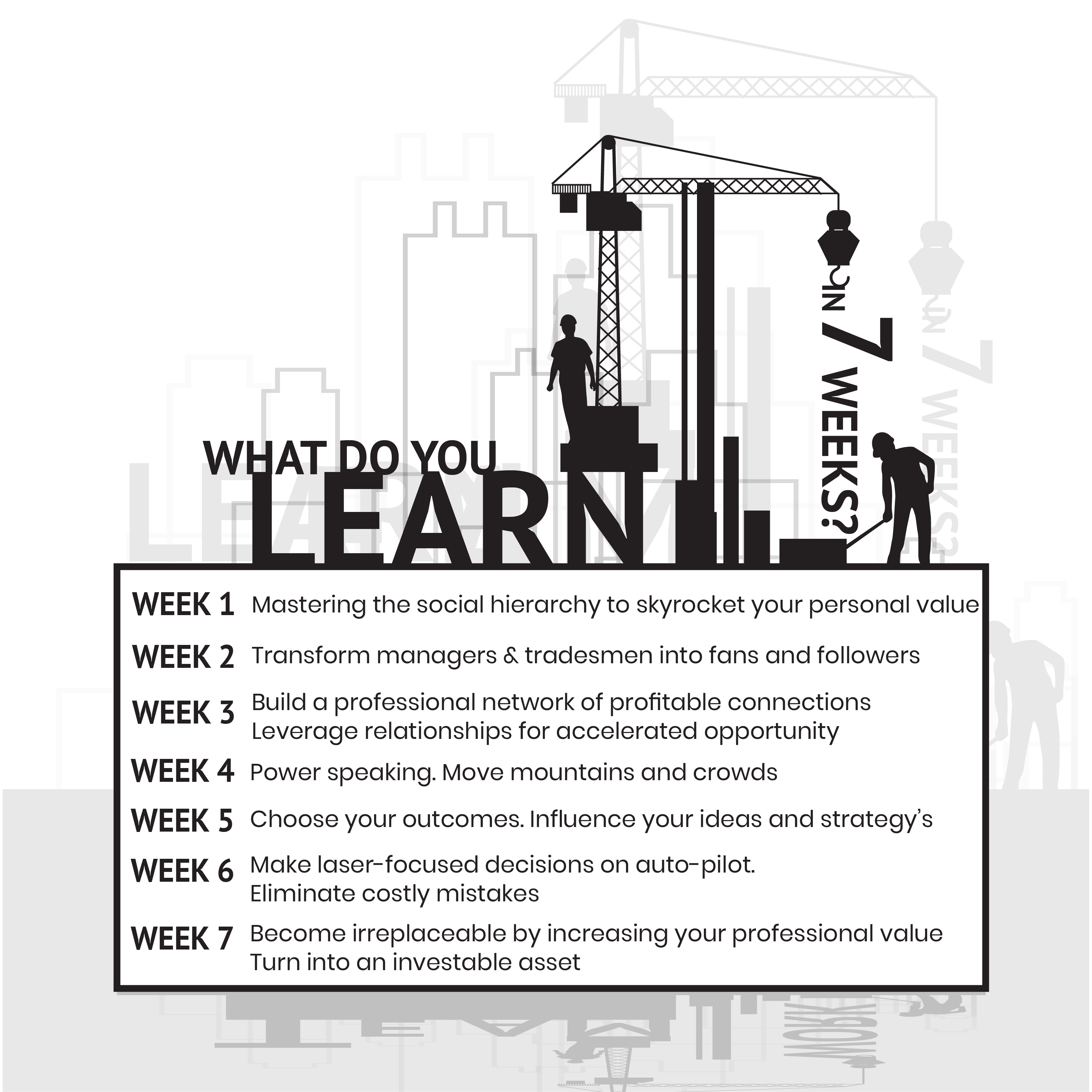 BONUS!!!
Get Access To The Diamond Tool Box!!!
The Diamond Tool Box is filled with unreleased lessons. We continually add lessons and resources to this tool box based on student feedback. After The Diamond Tool Box is full, it will be turned into a separate paid program for new students.
What do we do in 7 weeks?

The process to become an UNLIMITED TRADESMAN

What do you need to do to be successful in this course?

The top three reasons why you might FAIL this course.

Why is the social hierarchy so important?

High-status body language

High-status emotional control

The two feelings all humans long for

Rapport and the art of hacking a tradesman's world

The value of building rapport with the right people

Strategies to build rapport with anyone

4 Concepts that Turbocharge Connection and Relationships

Why is creating a professional network so important?

The 5 guiding principles of networking

What are profitable connections?

The absolute importance of first impressions

The difference between limited tradesmen and unlimited

How to increase your contacts with 4 simple steps

How to keep track of connections and their contact information

The BEST tool to keep track of your network

What information should I track

The 6 steps before speaking in public

The four critical speaking situations

The best way to communicate and receive information

How to eliminate imposture syndrome

Strategies to help influence your outcomes and ideas!

Get others saying yes, yes

Deflect reasoning onto others

Their stress is your success
About this course
104 lessons

8.5 hours of video content